The Stephin Merritt Game
---
So, you're driving from Florida to New York City to see the Magnetic Fields. Time slows to a crawl as you travel on those desolate highways, and you whisper Patsy Cline songs to your sweetheart, who is away in Brussels for a year. That night, you drink yourself to sleep in a hotel room with an hourly rate, with your head underneath pillows in an attempt to block out the screaming coming from the couple next door. Back on the road, you count billboards for "South of the Border" and see how long you can refrain from having to use the restroom facilities at a filthy truck stop.

There must be a better way to pass the time.

There is!

Play the Stephin Merritt game, and you will delight in the challenge of wracking your brain for useless musical trivia. You will be overcome with joy, making you impervious to the sights of grotesque automobile accidents and lonely hitchhikers. Before you know it, you'll be up in NYC, doing the "indie head-nod" to the silky smooth sounds of the Magnetic Fields. So let's begin, shall we?

In a nutshell, it's a musical version of the "Six Degrees of Kevin Bacon" game. You shall pick a musician/singer at random and try to link Stephin Merritt to that person. A link involves two people who have performed on the same song. Simply producing someone's album doesn't count - they must have played an instrument or sung. Or, and forgive me while I change the rules, the person wrote songs specifically for a certain band. For example, Peter Sinfield wrote the lyrics to early King Crimson songs and was considered a member, yet he never sang or played an instrument on their recordings. I make this amendment to include links to singers on Hyacinths and Thistles (because Stephin doesn't sing or perform on some tracks). *added 9/24/00*

For example:

Let's try Nico.
Nico sang on The Velvet Underground and Nico, on which Sterling Morrison played guitar.
Sterling played on Luna's album Bewitched.
Dean Wareham, the guy from Luna, sang on the 6ths' song "Falling Out of Love (with You)," the music of which was performed by, da daaaaaaa, STEPHIN MERRITT.

Okay, how about Yamatsuka (Yamantaka) Eye?
Yamatsuka Eye was in Naked City with saxophonist John Zorn.
John Zorn played on the Half Japanese song "Ride Ride Ride."
Jad Fair, of Half Japanese, played on "Ultra-Powerful Short Wave Radio Picks Up Music from Venus" with Yo La Tengo.
Georgia Hubley, drummer for Yo La Tengo, sang on the 6ths' song "Movies in My Head," the music of which was performed by, yes - you got it, STEPHIN MERRITT. Right on, brother!

Now try linking Ian Masters, the dude who was in Pale Saints when they were good.
Ian Masters is in ESP Summer with Warren Defever, of His Name is Alive.
Trey Many, drummer of His Name is Alive, also plays drums for Liquorice.
The lead singer/guitarist of Liquorice, Jenny Toomey, is in Grenadine with Mark Robinson.
Mark Robinson sang on the 6ths' song "Puerto Rico Way," the music of which was performed by, umm yeah give it to me baby...STEPHIN MERRITT!!!


You get the idea.

If you have some interesting or amusing Stephin Merritt linkings (say, Pia Zadora or the guy in the Offspring who only gets to say "Gotta keep 'em separated"), then email me at krebnar at wiw dot org and if they are sufficiently wacky, then heck, maybe I'll put them up.

Stephinsongs subscriber Joe writes:
thanks to the folks at invisibleradio.com and their valuable pacific northwest incest map, you can connect stephin merritt to just about anyone.
here, for example:
stephin merritt to tobi vail of bikini kill fame:
after bikini kill disbanded, tobi was in the frumpies, which also included molly from the peechees and bratmobile. allison and erin, the other 2/3 of bratmobile, were in cold cold hearts, which included lara mcfarlane, who was sleater-kinney's old drummer. carrie brownstein from s-k was in the spells with mary timony, who guest starred on "wasps' nests"...the rest is easy. *added 8/20/00*

Stephinsongs subscriber Paul Steeples writes: Can anyone link Stephin to his beloved ABBA?

Oh my yes, Paul.
Phil Collins dueted with ABBA's Frida on "Here We'll Stay" on her album Something's Going On.
Phil Collins was in Genesis with Peter Gabriel.
Peter Gabriel sang on "Excellent Birds" on Laurie Anderson's album Mister Heartbreak.
Lou Reed sang on "In Our Sleep" on Laurie Anderson's album Bright Red.
Lou Reed was in the Velvet Underground with Sterling Morrison > Dean Wareham > Stephin Merritt!! *added 8/20/00*

David Jennings provides a shorter path for the ABBA-link:
1. As above
2. Phil Collins was in Genesis, who on "The Lamb Lies Down on Broadway" were joined by Brian Eno (credited with 'Enossification' n.b. not production - the album was produced by John Burns - therefore I claim this counts as playing an instrument - see http://www.discographynet.com/gabriel/pgtlldob.html for full credits)
3. Brian Eno played with John Cale on their joint albums Wrong Way Up and 1 June 1974 as well as others
4. John Cale was in the Velvet Underground with Sterling Morrison, etc. *added 9/24/00*

The Beatles!
Eric Clapton played guitar on the Beatles tune "While My Guitar Gently Weeps."
Jack Bruce was in Cream with Eric Clapton.
Jack sang on "Silver Bullet" by the Golden Palominos, Anton Fier's band.
Chris Stamey played on several Golden Palominos songs with Anton.
Chris was in the Sneakers with Mitch Easter, who sang "Pillow Fight," with music by STEPHIN MERRITT!!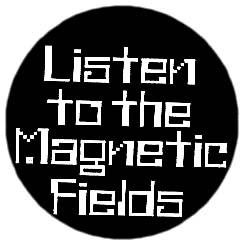 Mike G. sent me the Stephin Merritt linking for Keiji Haino:
Japanese performer/guitarist Keiji Haino played with German saxophonist Peter Brotzmann.
Peter Brotzmann used to be in a trio with South African bassist Harry Miller.
Miller worked with British pianist Keith Tippet who played with Weekend.
Weekend member Alison Statton sang with Stuart Moxham in Young Marble Giants.
Stuart Moxham sang "Yet Another Girl" on the 6ths 7" box set, with music by STEPHIN MERRITT!!
Mike added this comment about the Stephin Merritt game:
I think it is good fun, and also wonderful for the "if it's not experimental it sucks" group.
Alas, our quest is over. The Danzig-Merritt connection has been discovered:
A knowledgeable reader submitted the connection to Glenn Danzig:
For a brief period, onetime Black Flag drummer ROBO was a member of the Misfits with Danzig.
ROBO was in Black Flag at the same time as Henry Rollins.
Rollins played with Mike Watt in Minuteflag and on a song on Watt's CD.
Mike Watt collaborated with J. Mascis on the former's single, E-ticket Ride.
Mascis was in Dinosaur Jr. with Lou Barlow, who sang "In the City In the Rain" with music supplied by Stephin Merritt.
...and the connection to the funky sax player in Quarterflash has also been revealed:
Aaron Mandel provided the link to Rindy Ross:
Rindy Ross sang backup on the Douglas September album Ten Bulls with
Bill Frisell playing guitar, as he has done on many occasions with
John Zorn and the rest of the chain to Stephin is already on the page.
I think we can all sleep well tonight.